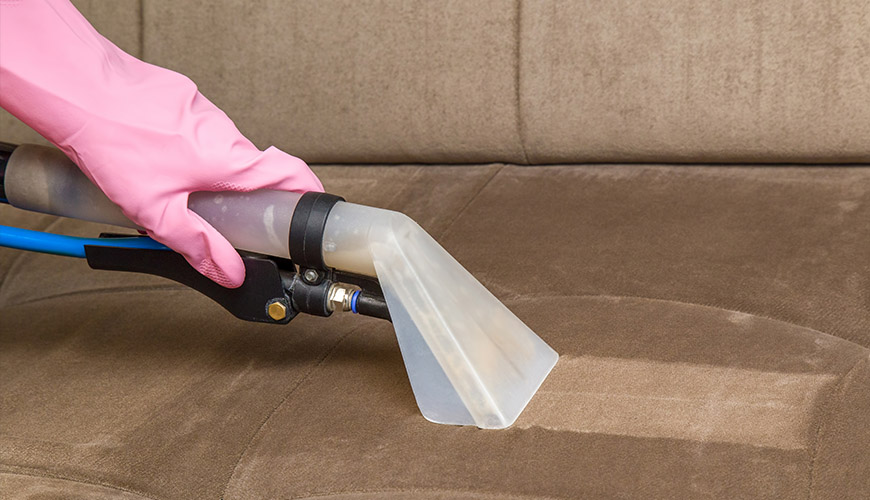 Upholstery antiviral sanitisation to destroy 99.99% of bacteria and viruses
Note: The antiviral upholstery sanitisation service can be booked ONLY in combination with Hot Water Extraction.
Step 1: Pre-spraying your mattress and upholstery with antiviral detergents
Before performing Hot Water Extraction on your mattress or upholstery our fully protected upholstery cleaning technicians will pre-treat your mattress or sofa with an EN1276 CERTIFIED antiviral detergent. Such solutions have neutral pH, making them safe for any wet-cleanable surface. They also completely remove embedded urine, cooking, pet and smoke odour from upholstered furniture and carpets.
Step 2: Agitating the detergent to kill even more germs
Using a special agitation technique, our certified upholstery cleaners work in the detergent into your furniture or mattress, to ensure the antiviral disinfectant goes deep and kills the germs.
This allows the antiviral detergent to thoroughly penetrate the surface and eliminate the germs.
Step 3: Performing hot water extraction to ensure thorough sanitisation and fast drying
After 15 minutes of waiting time, the detergent has eliminated 99.999% of all germs in your upholstery including viruses such as Coronavirus, MRSA and Hepatitis B. Our specialists then perform Hot Water Extraction cleaning to completely sanitise your piece of furniture.
| Upholstery type | Hot Water Extraction + Stain Protection* | Dry Cleaning / Delicates |
| --- | --- | --- |
| Armchair | from £22+vat | from £47+vat |
| Two-seated sofa | from £51+vat | from £66+vat |
| Three-seated sofa | from £80+vat | from £104+vat |
| L- shaped 4 seater sofa | from £108+vat | from £125+vat |
| Dining chairs | from £7+vat | from £14+vat |
| Office chair | from £7+vat | from £8+vat |
| Mattress | from £29+vat | from £36+vat |
Professional sofa and mattress cleaning in London with Hot Water Extraction
Rarely people realise that their sofa and mattresses need some form of maintenance. With time, they accumulate a considerable amount of dust and are surely crawling with those microscopic bugs called dust mites. For the purpose of refreshing your mattress/sofa, we can apply Hot Water Extraction which is quite effective as it deals very well with accumulated dirt and many types of household stains. However, please keep in mind that some stains actually cause damage to the fabric and can't be removed completely. The downside is that mattresses take a bit longer to air-dry on their own but the technician can provide you with a free air mover so you won't need to worry about that.
Pretreatment of stains
The technician can determine the type of stain and apply the most suitable detergent. He brings a variety of detergents that are specialised for removal of certain stains – coffee, greasy food, blood, ink, crayon, vomit, you name it. However, keep in mind that there are some stains that permanently damage the fabric and can't be removed, for instance hair dye or water marks. It's important not to attempt to clean a stain on your own as this can drive it even deeper into the fabric and make it impossible to clean.
Hot Water Extraction
We've set it as a standard for quality. It is the most effective upholstery cleaning method to date. Here is how it works:
After the initial pre-treatment of the fabric a high-end professional machine is used to inject hot water deep between the fibre.

This effectively dislodges the accumulated grime and dust.

The nozzle has a suction attachment that almost simultaneously removes about 95% of the moisture from the textile (along with any dislodged dirt).
This way you are left with a perfectly cleaned and deodorised upholstery that will air dry on its own in a few hours.
The technician will carefully examine your delicate upholstery items to determine the best way to clean them. Here you can take a look at the methods we apply to freshen up even the most lavish of fabrics.
Dry solvent cleaning
The detergent used for this type of furniture cleaning does not contain and does not require the use of water at all. It is specifically designed to connect with dirt on a microscopic level, but it does not affect the fabric in any way, thus there is no chance of damaging it. Once properly applied, the detergent is then removed with a vacuum cleaner, which also effectively rids the treated upholstery of any residing dirt.
Dry foam cleaning
Low moisture detergent is applied on the fabric after the pretreatment. It is rubbed in with a rotating brush, which is absolutely safe for the fabric. In the end, the foam is vacuumed off and you are left with a well-refreshed upholstery.
Leather sofa cleaning
The leather furniture cleaning of sofas, ottomans and armchairs is done with professional detergents, which are carefully applied using cotton cloths and wiped away afterwards. We successfully clean couches made of aniline, protected and nubuck leather. However, if the leather has been stained with something, there is a good chance that the damage is permanent and the leather sofa cleaners may not be able to take it out.
NOTE: Each cleaning solution is carefully picked to match your furniture's properties in order to rejuvenate its colour and avoid discoloration.
Synthetic & Mixed
We strongly recommend the Hot Water Extraction method (also known as Steam Cleaning) for the majority of furniture types that can be submitted to wet upholstery cleaning. Those include sofas, armchairs, dining chairs and more. We also use this technique for mattress cleaning.
Delicate/Natural Fibre & Leather
There are of course exceptions that can't be wet-cleaned. However, we can offer a variety of other refreshing alternatives. Our professional leather cleaning service, for example, is fully capable of dry cleaning your leather and suede sofa to perfection. Once on site, your upholstery cleaner will determine the most suitable fabric cleaning method for your soft furnishings.
Professional & Experienced. All our Cleaning expert come from multi-trade backgrounds, have decades of experience, communicate well and understand the importance of customer service.

Quick Response Times. We can usually offer you Same-day or Next-day appointments.

Specific Arrival Times. We agree a 60 minute window of arrival time. So no need to wait in all day.

London Extra Service from Booking to Billing. All our work is delivered with unmatched London Extra Service.

Six Day Service. We offer appointments from 08:00-17:00 Monday to Saturday at the same great value rates.

We've got London Covered. We cover all London as well as TW, KT, CR, BR postal codes.

All our Work is Guaranteed & Insured.