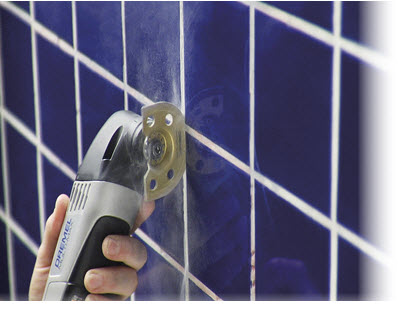 Tile Grout Repairs
All our Team are experts at tiling and tile grouting.
Grout lines in tiling often become discoloured and sometimes the grout cracks or falls out. In some cases we can lightly abrade the surface of the grout to remove stains and improve its appearance. In others, we can remove some or all of the grout and re-grout the affected area.
There are two ways we can proceed with this type of repair:
We can agree a time for the handyman to visit. He will arrive, assess the work, give you an accurate estimate and if you are happy with the cost he will just get on with the work straight away and charge our standard 'by time' rates of £40+vat for the first half-hour and £25+vat for any half-hour thereafter.
The second option is to arrange a 'survey & quote' visit. This costs £35+VAT. It will allow the handyman to inspect the work in order to prepare a formal quote for your approval. Once accepted the handyman will return on a follow up visit to carry out the approved work at a fixed price.
Professional & Experienced. All our handymen come from multi-trade backgrounds, have decades of experience, communicate well and understand the importance of customer service.

Quick Response Times. We can usually offer you Same-day or Next-day appointments.

Specific Arrival Times. We agree a 60 minute window of arrival time. So no need to wait in all day.

London Extra Service from Booking to Billing. All our work is delivered with unmatched London Extra Service.

Six Day Service. We offer appointments from 08:00-17:00 Monday to Saturday at the same great value rates.

We've got London Covered. We cover all London as well as TW, KT, CR, BR postal codes.

All our Work is Guaranteed & Insured. We offer a 12 month guarantee on all labour and parts we supply.